Ribbon Blender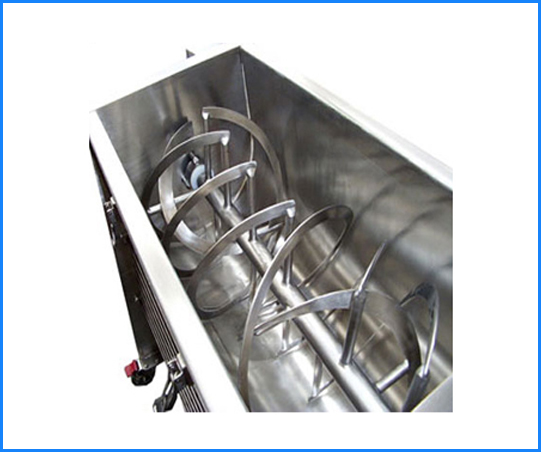 Ribbon Blenders are very sturdy and robust. They consist of a U type Vessel with flat head. The central agitator shaft is driven from end with gear box reducer. A double helical ribbon agitator in the vessel moves the product upward along the outer wall and releases it downward into cavities developed in the middle, simultaneously material is horizontally distributed by the mixing arm and is optimally homogenized.
Mixing time is depending on the agitator speed. In general mixing time is three to four times shorter than the mixers working with a rotating screw. The S.S. RIBBON BLENDER is an efficient and versatile blending machine for mixing of dry granules & powders homogeneously.

The dry material gets sufficient continuous movement due to the shape & movement of ribbon & shape of the container, which moves material for good quality of blending.

The unit consists of one electrical motor, one worm reduction gear, belt drive between motor and gear, couple drive between gears to (ribbon) mixing stirrer. Container having four numbers of legs with discharge valve & top cover. Both ends of mixing shaft are sealed with bush & stuffing box.
DESIGN OPTION :
• Models with single or double helix.
• Net capacities for 20 to 25000 liters.
• Various Material and surface treatment available depending upon product characteristics.
• Liquid adding by ISP system.
• Heating Cooling jackets with insulation.

We provide ribbon blenders that give a triple mixing action for efficient blending. Great emphasis is laid on its dimension and configuration for quick product discharge.

Its distinguishing features are:
• Wear resistance
• Corrosion Resistance
• Vacuum filling and discharge arrangements
• Special shaft seals
• Heating & cooling jackets